Chair's report February 2020 – Waitangi day, Watercare and our Greenways Plan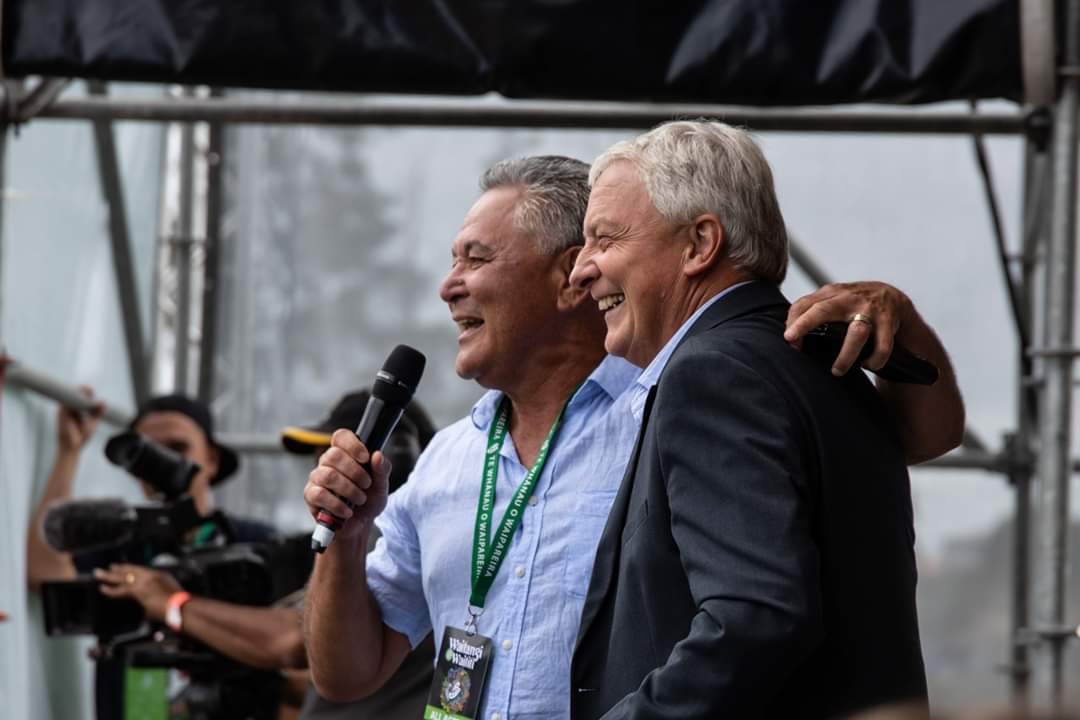 This is my first report for the new year. Already the year is off to a flying start and probably the same as for the rest of you the holidays are a distant memory …
Water
We are in the middle of a gloriously warm summer. Also dry, too dry for a number of westies.
At the time of writing we have had a record 40 days without rain. It has been glorious but some locals are starting to feel the pinch.
Although the west coast dams are reasonably full, about 70% full on average, the water distribution system has been thrown out of kilter by the need to regulate water flows inn filling stations used by private water suppliers to fill up their tankers. This coupled with unprecedented demand means that delivery times have stretched out to months. And a number of people who rely on rain water are under considerable stress, as the warm weather and lack of supplies has caused their water reserves to dwindle.
Titirangi itself is fine thanks to the reticulated water supply system. But parts of Cornwallis, Huia, Karekare, Piha, Te Henga, Waitakere and Waiatarua are struggling.
To help out Auckland Council is investigating a number of options. Tanks are proposed for Piha, Cornwallis and Waitakere where people can come and fill up 20 liter containers for free.
West Wave is offering free showers to locals. The local board has suggested that we need to investigate other facilities closer to affected areas and this is being looked into.
Council is also investigating the use of milk tankers filled with water placed at strategic sites to speed up the private tanker filling process. The quicker they can be refilled and put back into circulation the better.
So what can locals do? Please go easy on the water consumption. Current consumption levels are very high and there is no end to the current dry weather in sight. The reticulated urban area is not struggling yet but a continuation of this weather and it will.
And dare I say it but more extreme heat and fractured weather patterns are exactly as foretold by climate scientists. Our climate is changing. We need to look after it and protect it.
So go easy on your water consumption and check on your neighbours, particularly those out west in the unreticulated areas. And go easy on the planet. She is the only one we have.
Greenways plan
The water issue leads neatly into our Greenways Plan implementation.
Recently Australia has been burning. Five million hectares burned. Sydney has had dense clogging smoke for weeks. New South Wales has already lost an estimated 30% of its koala population.
The fires were only extinguished by unseasonal flooding.
It is not even peak bushfire time which normally starts in April.
Australia is not the only country to experience severe adverse weather patterns and consequences. The cause is clear, increased temperatures and changing rain patterns caused by climate change, just as predicted by numerous scientific studies.
Phil Goff recently released the Mayoral Budget Proposal and including measures to address climate change. These include further tree planting, investment in a decarbonised Council fleet, and more funding for schools and adaption.
I believe that the proposal needs to go much further. It should encourage low emission vehicles, rapidly increase high-quality cycling and walking infrastructure, and help develop decentralised energy networks.
The last Council introduced special rates for water quality and environmental issues. These rates will raise $452 million and $311 million respectively over ten years. Most locals were very supportive.
Maybe it is time for Auckland Council to propose an urgent Climate Change special rate.
The local board has completed the local Greenways Plan. It sets out a blueprint of how our walkways and cycleways could look.
But we don't have the funding to do any more than a small proportion of the plan.
If we are going to be carbon neutral by 2050 then by 2030 the introduction of petrol cars into New Zealand's fleet will be rare. Which is why alternatives to driving, including public transport and walking and cycling will need to be nurtured as much as possible.
Council needs to be brave and urgently start investing in infrastructure to get ready for our future.
The argument for a dedicated fund so that we can get our city ready for a post petroleum future is I believe especially strong and especially urgent.
Resource consent for Waima treatment plant
This is for hearing soon. The Local Board intends to present submissions to the hearing by way of local board feedback. Our mandate is to advocate for and express the interests of local people.
To repeat our position:
We oppose the application in its current form.
We note the proposed development is in the Waitākere Ranges Heritage Area and is adjacent to regional parkland and our view is that it is inconsistent with the objectives of the Waitākere Ranges Heritage Area Act 2008 as well as the Muddy Creek Local Area Plan.
We have invited Watercare to renew consultation with the Waima community to locate a site and a plant design that will satisfy local expectations.
We have also invited Watercare to investigate repositioning of the plant to the sludge site close to the Nihotupu lake as previously identified by the Local Board.
As an alternative option we have suggested Watercare should consider repositioning the site in an urban industrial area such as Spam Farm in Glendene which is more suitable for the location of a large industrial complex of this sort.
We are concerned that the plant design requires the destruction of 3.5 hectares of regenerating sub tropical rainforest that is home to many indigenous species including a previously unidentified wasp and that the project will require up to 118 heavy vehicle movements a day on Titirangi's narrow and fragile roads.
We support the restoration and repurposing of the Nihotupu Filter Station which is a scheduled heritage building at the entrance to Exhibition Drive
We support a significant restoration fund being established should the new plant be constructed in the Waima area.
Hoani Waititi Marae strategic hui
The three local boards were invited to a very important meeting at Hoani Waititi Marae to hear and learn more about Māori aspirations and visions for West Auckland. Eynon Delamere on behalf of the Marae set out the Marae's vision, particularly for the establishment of a Wananga at the Marae precinct.
My personal view is that the argument for a Wananga is strong. The Marae has a well established involvement in education. It started off with the Kohanga Reo, then developed its Kura, and there is a timely logic for a Wananga to now be developed.
The site is ideal. It is near the Sunnyvale Railway Station. The vision of the trustees is that graduates from the Te Kooti Rangatahi (Marae Youth Court) can leave the wharenui and walk straight across to the Wananga.
The land is local reserve land. This local board has a major desire to preserve our greenspace so we will need to carefully consider the future use of the land and the optimal design for the area. We will also need to seek certainty of funding for the project. But the Wananga represents for the Marae a significant and we should consider it carefully.
Waitangi day
Waipareira Trust and Hoani Waititi marae have for a few years now held an annual Waitangi day event. The day has gone from strength to strength. Like Waitangi days nationally the local event has become more and more of a celebration. As the breaches of the Treaty of Waitangi that have occurred are acknowledged and the resolution process advanced the sense of grievance has subsided and the desire to celebrate the day has grown.
The local event starts with a powhiri. This year we had Cabinet Minister Carmel Sepuloni, local MP Deborah Russell, local Councillors, Shane Henderson, Linda Cooper and Tracy Mulholland, the three local local board chairs, Chris Carter, Kay Thomas and myself and local board members Mark Allen and Michelle Clayton attend and be present on the Manuhiri side.
The event felt very symbolic. Just as on the first Waitangi Day we were representatives of the Crown and Eynon Delamere and others including Hare Rua, chair of the Kura, and other significant members of the Marae were representatives of Tangata Whenua.
Following the powhiri the festival itself kicked off. The quality of the artists that have been recruited was outstanding. They included acts of the calibre of Kora, Ardija and Katchafire.
The vibe of the day was outstanding and erstwhile combatants made up and just got on.
Needless to say I am astounded by the quality of the day. It is a real celebration event.
It is funded through some local board grants, money from the licensing trusts and significant contributions from Waipareira and Hoani Waititi marae. There were perhaps 40,000 people present. I think it is time for Council to think about significant Regional funding as it is a major event.
One further suggestion I have is that Auckland Transport makes public transport free on Waitangi day. There is a train station within 10 minutes walk of where the festival was held. To help overcome parking issues and as a gesture of good will and support free public transport to the event could be provided.
The 2020-2023 local board plan
We are now in the process of drafting this term's local board plan. The plan is a strategic three year plan that is intended to drive the local board's activity on the next three years.
We welcome all feedback. So far we have sought feedback from a number of people at the Waitangi celebration at Hoani Waititi Marae, from a special session with the trustees at the Masjid-E-Bilal mosque at Glen Eden, and from a session held at the Te Henga community day.
At the end of this meeting we intend to allow a further opportunity for locals to have their say on the future of our local board area. But feedback is welcome through any means.
The formal consultation will be during June and July this year and it is anticipated that the plan will be finalised this October.
Friends of Arataki
Recently Sandra Coney, Michelle Clayton and myself attended the Friends of Arataki annual general meetinng.
The organisation celebrated its 25th anniversary of its creation. It engages with the staff at Arataki and really enhances the facility. Its current major project is a canopy walk to open up enjoyment of the local forest while at the same time protecting Kauri from Kauri dieback.
Congratulations to Yvonne Pivac and the executive for the work that they do. I look forward to the day that the canopy walk is opened.
Local track reopening
Most should be completed this year. Three local tracks are either reopened or the work is nearing completion. A further six is anticipated to be completed by mid year and five others by the end of the year. One track, Tinopai Reserve, is to be reopened early next year.
Three tracks are to be closed permanently.