A death in Glen Eden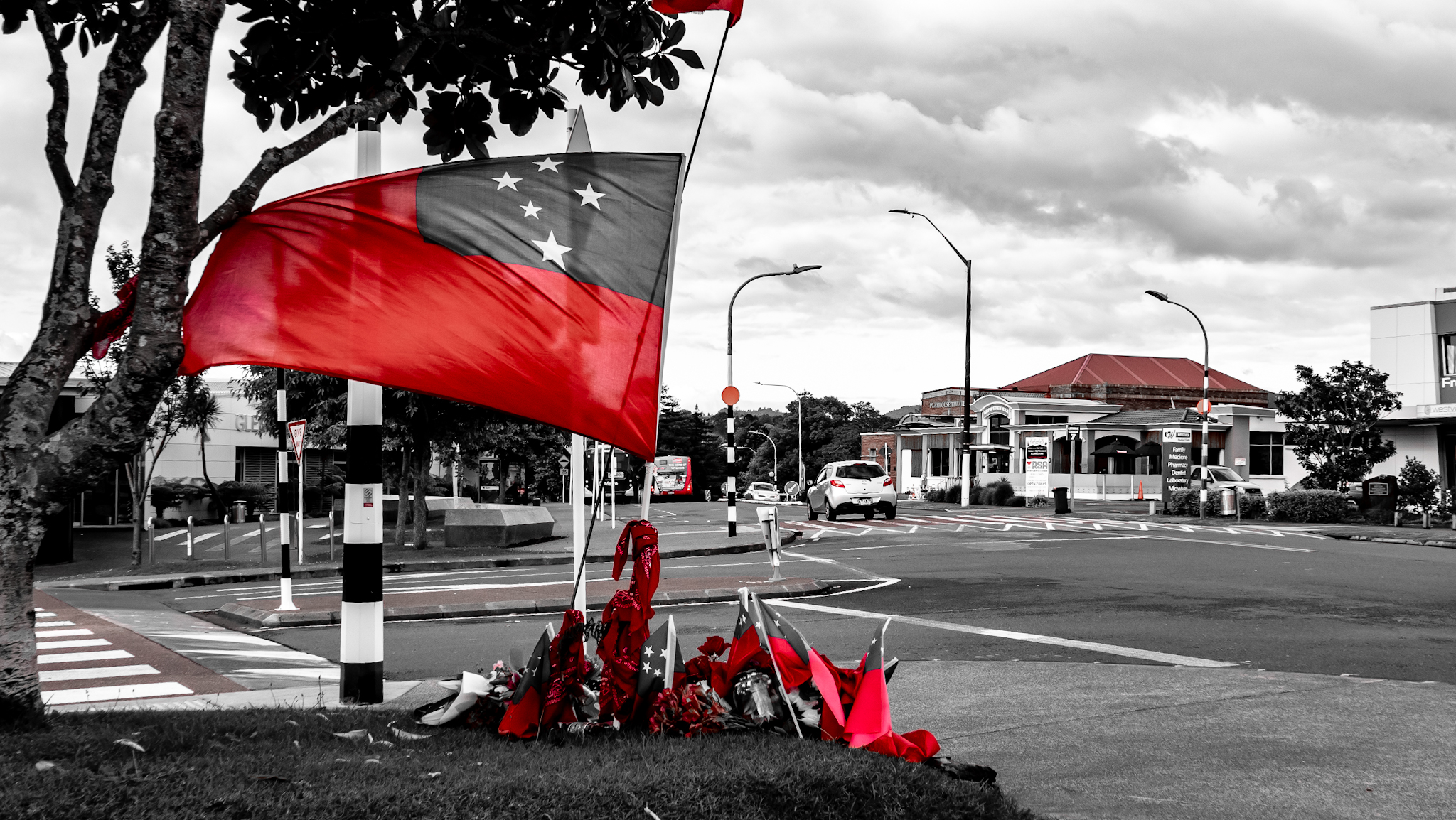 As I write this just over a week ago there was a terrible incident in Glen Eden where a young man named Tim was hit by a car. The details are subject to a prosecution and speculation is unwise but media reports suggest that there was some sort of argument between Tim and another person, that this other person got into his car and drove back and hit Tim at speed. Tim was thrown into the air and then fell to the edge of Glendale Road.
Locals sprung into action. Staff at the Fitness Factory saw the event unfold and local trainer Marc Rainbow ran to help Tim and provide him with CPR. Staff from the local pharmacy and West View Medical Centre and the Glen Eden Library also came out to see what they could do.
Despite heroic attempts to save Tim's life his injuries were too severe and I understand that a doctor from West View Medical Centre pronounced him dead.
The institutional response to the death was swift. Thanks to the Glen Eden Business Improvement District the area is covered with high quality video surveillance and thanks to this and also the brave efforts of Kat McCormick, who followed the car after the collision and recorded its details, the driver was quickly and efficiently apprehended by Police. Kat's actions were particularly brave given that it appears a gun was brandished her way. Again this is subject to criminal proceedings so care should be exercised in discussing details but all that I can say to Marc and Kat is respect.
The Irish Catholic in me thought that the area should be blessed. Hoani Waititi Marae and Novi Marikena volunteered to do this.
So on Wednesday of this week a group of us including Hoani Waititi Marae representatives, local board members, library staff and locals gathered together as we blessed the area where Tim had been hit and Tim had died. This second area is easy to spot. There is a Samoan flag proudly displayed above it and other items present to remember Tim by.
I then spoke to a Samoan gentleman of my age who turned out to be Tim's dad. He thought that the event was to happen at 11 am not 10 am. I think that between us and the police we scheduled two events immediately after each other to bless the area.
We were more than happy to wait. Blessing the area twice seemed to be but a minor inconvenience given what had happened.
The family gathered as did a significant crowd of locals. The Police District Commander and other police officers including the detectives in charge of the case were present at different times. Papa Fred Holloway attended to help us with spiritual guidance.
The area where Tim landed was blessed. Karakia were said and Waiata were sung. Then a member of Tim's family spoke and a Samoan hymn was sung with gusto.
There was barely a dry eye present. For the family it was clearly an important part of healing and for locals who had been involved I had the strong sense that this was cathartic, necessary to help them process what had been a traumatic event.
We then welcomed Tim's aiga to the Library and shared lunch.
They talked about forgiveness which I found remarkable. Not retribution, not vengeance, but forgiveness.
To Tim's family and particularly his partner who witnessed everything can I offer my deepest condolences. To the police can I acknowledge the efficient and professional way this incident has been handled. To the heroes of Glen Eden, particularly Marc and Kat can I thank you.